WELCOME TO NORTHGATE
Located on a small farm in the mountains of Northwest New Jersey, Northgate has been active in jack russell terriers for more than 20 years. Our terriers are worked regularly in the field and are true all-around terriers, winning multiple JRTCA (U.S.) and JRTCC (Canadian) National Championships in Conformation, Racing, Go to Ground, and Super Earth.

OUR PHILOSOPHY
Northgate terriers are members of our family. As veterinarians, we keep a close eye on the health and genetics of our terriers. All of our terriers are BAER normal, PLL tested, and CERF tested annually. At Northgate, we strive to produce well-socialized terriers with outstanding dispositions. We produce only a few carefully planned litters each year and our puppies are hand raised with our children, Erin and Gregory.

We are committed to preserving the working ability of the Jack Russell Terrier. It is that innate instinct that makes the Jack Russell what it is: a dog with the personality, temperament, energy, intelligence, and loyalty to be a determined hunter, fierce competitor, and loyal companion.

We hope you enjoy visiting our website. If you have any questions, please contact us.

--Douglas Tack, DVM and Susan Tack, DVM

All terriers are CERF Clear 10/2017. All Northgate terrier are tested for PLL, SCA, DM, and LOA.

Northgate Kennedy: 2016 and 2017 JRTCA National Working Terrier Champion!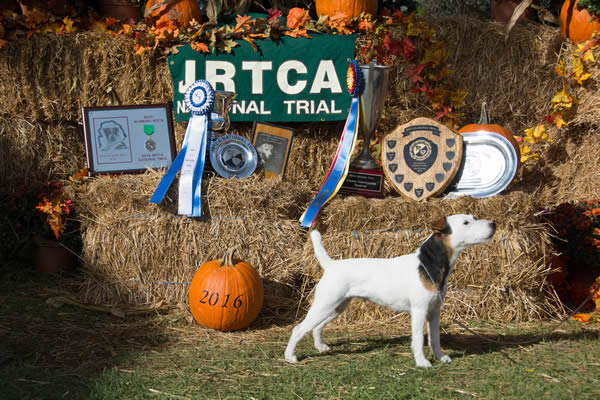 LATEST NEWS:
Updated 11/26/2017

Northgate 2017 results for Saturday and Sunday are now available on the Trials page!

All terriers CERF Clear 10/2017.

The 18th annual Northgate Terrier Trial, September 2-3 was a tremendous success! Check out details for Northgate 2018 on the Trials page!

Northgate Tyler has been added to the Girls page.

Saturday Results and Sunday Results for the 2016 trial are now posted.

Northgate Grant has been added to the Boys page.

Thaw Your Paws 2017: Northgate Kennedy was Working Terrier Champion both days, Northgate Saxon was Best Working Dog on Sunday and Reserve Best Working Dog on Saturday, Northgate Tyler was Reserve Best Open Terrier on Saturday, Northgate Grant was Best Open Dog on Sunday, and Northgate London was Puppy Conformation Champion on Sunday.

Yuletide 2016: Northgate Kennedy was Working Terrier Champion both days, Northgate Tyler was Puppy Conformation Champion at Yuletide II, Reserve Puppy Conformation Champion at Yuletide I, and Reserve Puppy Super Earth Champion both days. Northgate London was Best 4-6 Month Puppy at Yuletide 1.

Northgate had a wonderful nationals to wind up the 2015-2016 trial season. Northgate Kennedy brought home top honors winning 2016 JRTCA National Best Working Bitch and Best Working Terrier. Northgate pups also shined with Northgate Grant being awarded the 2016 Reserve Best Puppy Dog and his sister Northgate Tyler the 2016 Reserve Puppy Super Earth Champion. Our younger pups Northgate London and Northgate Bayne, shone in ring 2, with London winning Best 4 to 6 month puppy and best 4 to 6 bitch puppy and Bayne taking top honors in the 4 to 6 month puppy dogs. Rounding out our Nationals placements, were Northgate Britton - first in the under r/b broken working bitch class, Northgate Bracken- second in Brood Bitch and Produce and Northgate Saxon - second in the Bred By Exhibitor working dog class. Congratulations also to Northgate Dylan, owned and shown by Sandra Ferber, on his Best Family win.